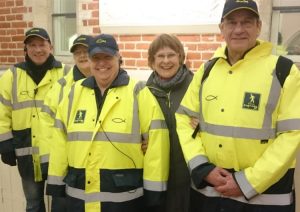 The Mayor of St Edmundsbury went on patrol with a group of volunteers who help keep people safe in Bury St Edmunds town centre during an evening.
At the weekend, Cllr Julia Wakelam joined the Bury Town Pastors who offer a helping hand most Friday and Saturday nights from 10pm to 4am.
She has also given them a £150 grant towards their running costs.
She said: "Being out on patrol with the pastors was a real eye opener for me in terms of seeing just how invaluable their work is. Young people, and some not so young, benefit from the presence of the town pastors when they come into Bury town centre for a night out.
"The town is lucky to have such dedicated volunteers who give their time to assist people in distress and help keep our streets safe."
The pastors have been operating in the town since May 2008, and are made up of Christian volunteers from more than 30 churches in Bury and the surrounding area. In the year up to the end of March, they were involved in handling more than 6,600 incidents.
Their work includes picking up and disposing of bottles that could be used as a weapon, calming potentially violent situations, and waiting with vulnerable people until their lift home arrives. The pastors have also alerted West Suffolk council's CCTV service and the police to potential situations, while they have handed out foil sheets to keep people warm.
Jo Copsey, co-ordinator for the Pastors, said: "Our role is to help make the town centre a safer place by providing a friendly presence on the streets which is neither judgemental nor confrontational."
For more on the Bury Town Pastors visit www.burytownpastors.org.uk
Photo and article reproduced, as yet without permission, from the Bury Free Press web-site. Read more: https://www.buryfreepress.co.uk/news/mayor-goes-on-patrol-with-bury-town-pastors-1-7731614/