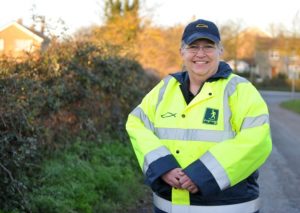 One of the founders of Bury St Edmunds' Town Pastor service has been honoured in the New Year Honours.
Jo Copsey, of West Row, has been awarded the British Empire Medal 'for services to policing and community safety in Bury St Edmunds'. The citation says her efforts in recruiting, training and ensuring the scheme's long term viability have been crucial.
It adds: "She is a real galvaniser for community activity and her enthusiasm and dedication is infectious, with the local partners all fulsome in their praise of her efforts."
Jo admits when she first opened the letter from the Cabinet Office in November, she thought it was a hoax."It was totally unexpected," she said. "I was speechless – I had not ever imagined I would get anything like this."
Town Pastors support people leaving bars and restaurants in the late evening who are vulnerable.
Jo said: "It can mean they're drunk or they may be vulnerable because they've become separated from their friends or are distressed.
"It is such a privilege to be able to offer care and support to people when they find themselves in a predicament."
Jo and a few others had been looking at whether there was a need for a Town Pastor service in Bury. She trained with the Ipswich team and Bury's town pastors' first night on duty was May 2, 2008.
She has since helped set up services in seven other towns. The 35 volunteers who go out in Bury are backed by about 60 in a prayer team. The volunteers come from about 30 Suffolk churches.
Photo and article reproduced, currently without permission, from the Bury Free Press web-site. Read more: http://www.buryfreepress.co.uk/news/local/latest-news/bury-town-pastors-founder-thought-bem-was-a-hoax-1-6495534#ixzz41cANSeT2