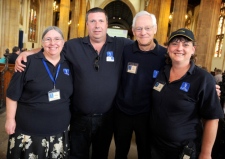 A SCHEME which supports those who are vulnerable on a night out in Bury St Edmunds has been celebrated at a special service.
Five years of the Bury Town Pastors initiative was marked at a thanksgiving service at St Mary's Church in the town on Sunday.
Since May 2, 2008, the town pastors have been patrolling the club and bar areas of the town centre on Friday and Saturday nights between 10pm and 4am, wearing high-visibility yellow coats and navy blue caps or hats.
They offer support to vulnerable people – who may be feeling the effects of alcohol – and, if possible, help them to find a way to get home safely. They also defuse potential trouble, which helps to make the town a safer place.
Co-ordinator Jo Copsey said "Over the last five years we have met so many lovely people when we've been out as town pastors and it is a privilege to be able to offer help when someone is in need."
The town pastors, who are supported in prayer while they are out on the streets, aim to be a positive presence by being friendly, non-judgemental and non-confrontational.
Over the last five years the town pastors have helped people in more than 5,500 situations and ensured the safety of more than 450 people totally incapacitated by alcohol.
They have removed more than 3,600 bottles and glasses – potential weapons – from the streets. They have also given out more than 4,800 Freddo chocolate bars and 3,400 bottles of water.
The Bury Town Pastors has volunteers from 32 churches.
Ms Copsey said: "I would like to extend a huge thank-you to all those people who have been involved as town pastors or prayer team members over the last five years."
Ric Groves, chairman of the Bury St Edmunds Pubwatch scheme, said: "The town pastors are a familiar sight on the streets of Bury St Edmunds each weekend and I have witnessed first-hand the service they provide and the professionalism in which they conduct themselves.
"I can speak for myself and the rest of the Pubwatch community which I represent in saying that the service they provide is invaluable in making Bury St Edmunds a safer place and long may it continue."
Town pastors have been supporting people out on Friday and Saturday night in Bury over the Bank Holiday weekend.
In Suffolk, the town pastors scheme began in Ipswich and has been followed by groups of volunteers across the county.
Photo and article reproduced, as yet without permission, from the East Anglia Daily Times (EADT) web-site. Read more: http://www.eadt.co.uk/news/bury_st_edmunds_bury_town_pastors_celebrate_five_years_of_offering_a_helping_hand_1_2182332